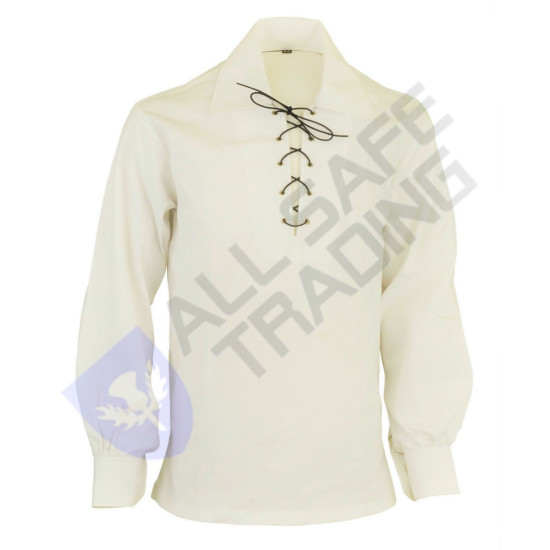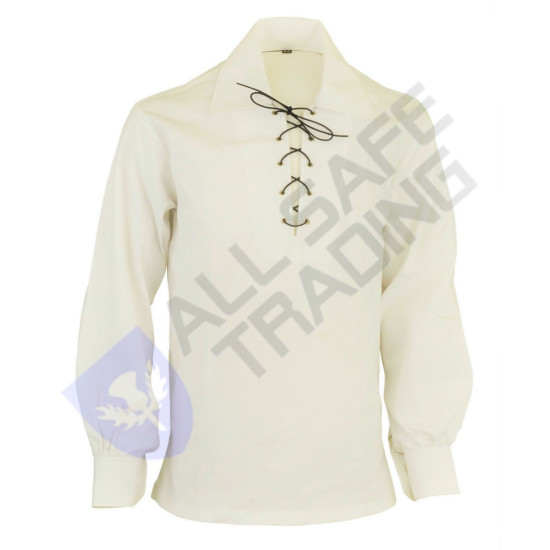 Scottish Off White Ghillie Jacobite Jacobean Shirt
Scottish Jacobite Ghillie Kilt Shirt with Leather Cord Sizes S TO 8XL.
Note: Blue color Is Navy Blue
Note: The Leather Cord is Black for Black, Green,Navy Blue,Royal Blue and Red color Shirts. Brown Cord for White, Off White (cream), and Beige Shirts.
Available Size :
Small Medium , Large , XLarge , XX Large, XXX Large 4XL 5XL 6XL and 7XL.( These size tags does NOT correspond to any standard, rather we go by actual inch size).
This Ghillie shirt is made in a High Cotton Rich Which makes it easier to keep.
The sleeves are traditional straight cut, with button cuff.
The neckline has a fastening of metal eyelets and leather cord, which removes easily for washing.
This Ghillie Shirt is a great item to wear with the kilt, trews or jeans
Size guide:
Note: Please consider your waist size too, if too big then chest size
Small - suitable for 38-40 inch chest
Medium - suitable for 40-42 inch chest
Large - suitable for 42-44 inch chest
XL - suitable for 44-46 inch chest
2XL - suitable for 46-48 inch chest
3XL - suitable for 48-50 inch chest
4XL - suitable for 50-52 inch chest
5XL - suitable for 52-54 inch chest
6XL - Suitable for 54-56 inch chest
7XL - Suitable for 56-58 inch chest
8XL- Suitable for 58-60 inch chest
Stock:

In Stock

Model:

AS-226

All Safe
Tags:
kilt
,
tartan kilt
,
kilt for men
,
kilter
,
usa kilt
,
wedding kilt
,
kilt rock
,
kilt hire
,
kilt jacket
,
kilt outfit
,
kilt dress
,
Scottish kilts
,
tartan kilts
,
utility kilts
,
cargo kilts
,
works kilt
,
men in kilt
,
sporran
,
kilt flashes
,
kilt hose
,
ghillie brogues
,
kilt pins
,
kilt belt buckles
,
kilt jackets
,
jacobite shirt
,
traditional kilt
,
brooches
,
kilt belt